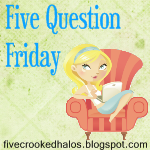 I am so happy to be participating in Mama M's Five Question Friday again! When I had my other blog 5QF was one of my favorite blog carnivals, memes or whatever people cause these weekly things. I looked forward to participating it every week....
So let's get started, this week's questions are:
1. S
hoes in the house -

yay

or nay?
Uhhhh I don't like request my company to take off their shoes, I feel weird doing so, but I prefer them not to wear shoes in my house, especially on the carpet!
2. W
hat do you call them- flip flops, slippers, thongs, etc?
They would be flip flops and if I could, I would wear flip flops 365 days a year! Love them, unfortunately I can't do that in the winters here. (As a matter of a fact I have them on today)
3.
What song are you almost

embarrassed

to admit you know all the lyrics to?
Ummm there's too many to name! I have to pick just one? Probably any Selena Gomez song...I secretly love her music and I may or may not have her CD.
4.
What is the best quality to have in a friend?
Someone who will tell you the truth no matter what. I've had those friends that I agreed with what ever I said, but I need someone to tell me if I am being a bitch or if I really do look fat in those jeans!
5. D
o you know what you want for Christmas?
Yup, an Ipad! I want one badly.... hopefully Santa (ahem, my parents or husband) will bring me one!
Do you want to link up to 5QF just head on over to Mama M's blog!
I hope everyone has a fabulous Labor Day weekend! I am looking forward to a long weekend, where we
really don't have a lot planned, but poker night at our house tonight and eating some crabs sometime this weekend!
If you are a first time visitor to my blog from Mama M's, please follow me! I just started blogging again after about a year break and I miss it, I promise lots of great posts about my kinda crazy, but yet kinda boring life and maybe even a giveaway or two. I will return the favor and follow you! I am always looking for more blogs to read!